This is not your normal smoothie. It is one of the richest, most decadent creations. An instant classic, this Energy smoothie has helped transition many a standard-diet eater into a healthier whole food advocate.
When looking for amazing smoothies that are power packed with nutrients and amazing taste, the Chocolate Almond Smoothie is a favourite.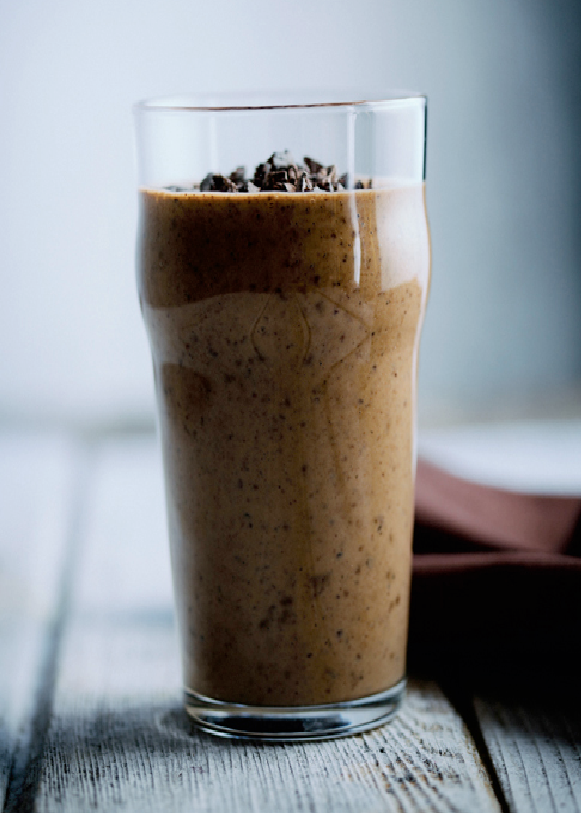 2 medium frozen bananas

2-4 fresh or soaked (in hot water) dried dates

2 cups cold water (or 1 1/2 cups water plus 1 cup ice)

1/4 cup almonds (or
2 tbsp raw almond butter)
1 tbsp ground flaxseed
1 tbsp hemp protein
1 tbsp roasted carob powder (or cacao nibs to make smoothie 100% raw)
1 tbsp maca powder
1 tbsp lacuma
1 tbsp whey concentrate or isolate protein powder or add a vegan chocolate powder
1 tbsp (15 mL) cacao nibs (Add once done and pulse for a crunchy smoothie)
Instructions
In a blender, combine all the ingredients except the ice and cacao nibs.
Add ice to about 1 inch (2.5 cm) above the liquid line.
Blend on high speed until smooth.
Serve topped with cacao nibs or blitz the nibs for a second or two to mix.
Hemp seeds can also be added last without including into the blender. Be generous as these seeds provide abundant nutrition and protein.