Chock-full of nutrition, this smoothie will have you going strong all morning. It contains slow-burning carbohydrates, essential fatty acids, and high-quality, alkaline-forming protein. Unlike traditional breakfasts, this one digests easily. As a result, not as much blood will be drawn to the stomach, leaving more to circulate through the brain, enhancing the ability to think clearly and work efficiently.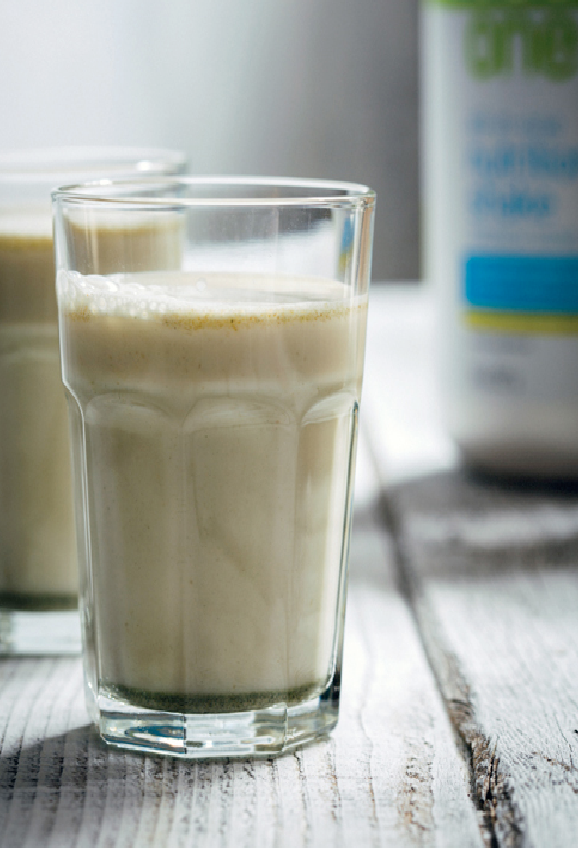 Prep Time: 2 to 3 minutes
Equipment: high-speed blender
1 large or 2 small Medjool dates, pitted and chopped
½ large or 1 small fresh or frozen banana
½ cup (125 mL) fresh or frozen blueberries
¼ cup (60 mL) gluten-free rolled oats
1 tbsp (15 mL) almond butter
1 tsp (5 mL) chia seeds
1 scoop whey concentrate or whey isolate or French vanilla–flavor protein powder
½ cup (125 mL) coconut water or wild blueberry juice
½ cup (125 mL) unsweetened almond milk (homemade)
1 tbsp (15 mL) MCT Oil Blend (optional)
About 2 cups (500 mL) ice cubes
Instructions
In a blender, combine all the ingredients except the ice and cacao nibs.
Add ice to about 1 inch (2.5 cm) above the liquid line.
Blend on high speed until smooth.
Serve topped with cacao nibs or blitz the nibs for a second or two to mix.
Hemp seeds can also be added last without including into the blender. Be generous as these seeds provide abundant nutrition and protein.