When looking for amazing breads that do not bloat you to such a point that you start floating, sprouted breads could just be that answer. Two slice gives you enough to include your quark, you add some broccoli or alfalfa sprout onto it. Just amazing, and just enough for a lunch. Who needs the feed the masses breads that take your gut to a place where it takes hours to return to normal never mind wanting to put you to sleep because the body is shutting down other energy stores to deal with the traditional foreign invader of wheat, gluten and the like.
This loaf is like none other. Maybe one other. It's really nutty and dense and filling. Yet it doesn't fall apart like other grain-free loafs. This bread stretches and pulls apart like regular bread, but it has none of the regular ingredients. No wheat, no gluten, no eggs, no yeast. It's made with sprouted pumpkin seeds, sprouted almonds, golden flax seeds, chia seeds, psyllium husk, coconut oil, maple syrup, and water. THAT'S IT.
What the heck are sprouted nuts and seeds, you ask? Sprouting nuts, grains and seeds is basically the process of soaking them prior to eating so that you can absorb the full nutrients. I have been sporting for a long time now and sprout are my favourite to eat as a topping on top of everything else wholesome. So, I love the idea of eating sprouted foods.
This loaf is PACKED with fiber, hormone balancing seeds, protein-packed nuts, and healthy fats. You will feel full and satisfied at the end of your meal, and you won't be left craving more carbs.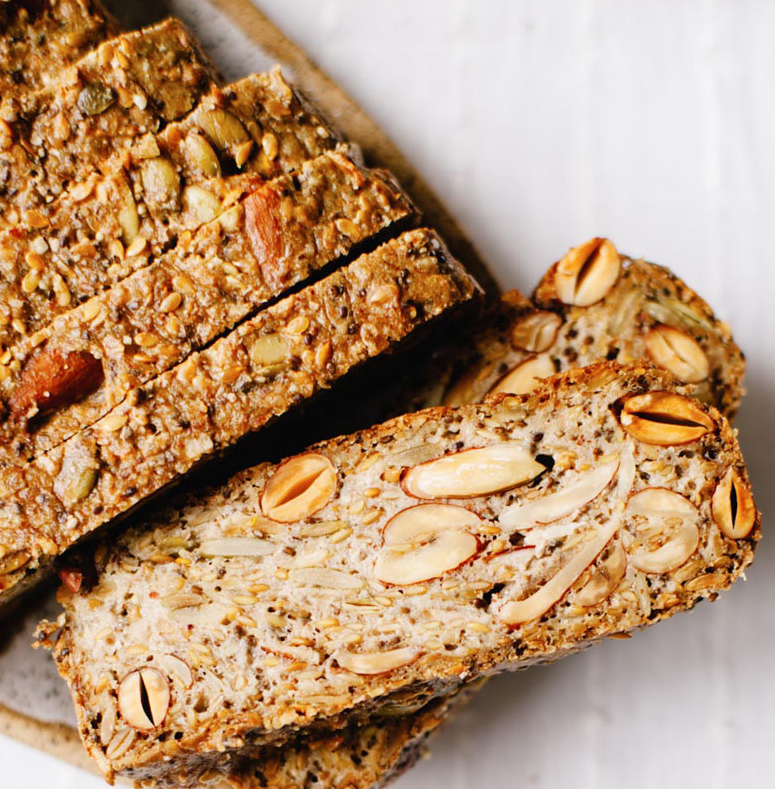 Sprouted Nut & Seed Loaf
This sprouted nut and seed loaf is totally grain-free, vegan, and made with less than 10 ingredients. Plus it's packed with healthy fats and protein!
Prep Time 15 minutes Cook Time 1 hour Total Time 1 hour 15 minutes Servings 1 loaf
Ingredients
2 cups sprouted pumpkin seeds, divided
1 1/2 cups sprouted almond nuts, divided
1/2 cup Golden Flax Seeds
3 tablespoons psyllium husk powder (see our shop for organic)
2 tablespoons chia seeds (Superfoods)
1 teaspoon sea salt
1 1/2 cups purified warm water
2 tablespoons virgin coconut oil
1 tablespoon maple syrup
Instructions
Preheat oven to 350. Line a loaf pan with parchment paper. Set aside.
Add 1/2 cup sprouted pumpkin seeds and 1/2 cup sprouted almonds to a small blender jar or a food processor. Pulse or blend until it becomes a course flour-like powder.
Add your blended pumpkin seeds and almonds to a large bowl along with the remainder of your whole sprouted pumpkin seeds, sprouted almonds, golden flaxseeds, psyllium husk powder, chia seeds and sea salt. Mix well.
In a small bowl, combine your warm water, coconut oil, and maple syrup.
Pour your liquid into your large bowl and mix until everything is very thick and well combined.
Scoop batter into your parchment lined loaf pan, and smooth out the top.
Bake for 45 minutes on 350. Then, use the parchment paper to lift the loaf out of the loaf pan and transfer to a baking sheet. Bake for another 15 minutes like this.
Allow to cool COMPLETELY before slicing.
EAT UP.
Recipe Notes
Bread will store in the refrigerator for up to two weeks, or freezer for a few months. This bread is best served toasted – so take the time to heat it up before you eat!