In the last week alone, the reported number of COVID-19 cases in Africa rose by 43 percent. The World Health Organization (WHO) has warned that the African continent, home to over 1.3 billion people, could become the next epicenter of the global coronavirus pandemic. Okay stop right here. Would you believe this could be the case?
The world currently has over 2.8 million confirmed cases of COVID-19, including 198,668 deaths. The whole African continent doesn't even account for one percent of this, as they only have 21,470 confirmed cases and 865 deaths. The majority of cases come from South Africa, Algeria, Cameroon and Ghana. What about Comoros and Lesotho? No reported cases. Why? Okay lets move on to moving the business to Africa. Why has President Trump stopped funding the WHO?
WHO warns that Africa could be the "next epicenter" of the pandemic

WHO Africa's program manager, Michel Yao, told reporters that if the number of cases in the continent continue to multiply per week, many African countries could face a "huge peak" in cases.
WHO has said that if the continent's rate of infection isn't properly contained, there could be 10 million COVID-19 cases in Africa within the next three to six months. Worse, the hardest hit communities in Africa will be those that are already suffering from health conditions such as malnutrition and HIV. Okay, this is not difficult to understand. A compromised immune system is more susceptible to another virus than a normal healthy person. What should we do? Why not teach on building up the immune response. Not medicating the condition or the symptom. This will have a multiplier effect to many other diseases and infections.
Testing is perhaps the main concern that Africa faces. More than likely, there are more actual COVID-19 cases in the entire continent than reported ones. And yes there are even more other condition under reported than elsewhere.
Ethiopia, a country of over 109 million people, has only conducted 10,000 coronavirus tests. South Africa has so far only managed to test 73,000 people out of a population of 57 million. Nigeria, the most populous nation in Africa, with over 190 million inhabitants, has only tested 5,000 people.
South Africa has the most confirmed cases out of all the member states with 4 361 confirmed case; 86 deaths; 1 473 recoveries. Egypt has 4 319; with 307 deaths reported and 1 114 recoveries.
Morocco has 3 897 cases, 159 deaths and 537 recoveries and Algeria 3 256; 419; 1 479.
The regional breakdown was as follows:
Central (2,652 cases; 92 deaths; 833 recoveries): Burundi (15; 1; 4), Cameroon (1,489; 53; 697), Central African Republic (19; 0; 10), Chad (46; 0; 15), Congo (200; 6; 19), DRC (442; 28; 50), Equatorial Guinea (258; 1; 8), Gabon (176; 3; 30), Sao Tome & Principe (7; 0; 0).
Eastern (3,127; 71; 1,076): Djibouti (1,008; 2; 373), Eritrea (39; 0; 13), Ethiopia (122; 3; 29), Kenya (343; 14; 98), Madagascar (123; 0; 62), Mauritius (331; 9; 295), Rwanda (183; 0; 88), Seychelles (11; 0; 6), Somalia (390; 18; 10), South Sudan (5; 0; 0), Sudan (213; 17; 19), Tanzania (284; 8; 37), Uganda (75; 0; 46).
Northern (12,479; 926; 3,361): Algeria (3,256; 419; 1,479), Egypt (4,319; 307; 1,114), Libya (61; 2; 18), Mauritania (7; 1; 6), Morocco (3,897; 159; 537), Tunisia (939; 38; 207).
Southern (4,698; 100; 1,553): Angola (25; 2; 6), Botswana (22; 1; 0), Eswatini (56; 1; 10), Malawi (33; 3; 4), Mozambique (70; 0; 9), Namibia (16; 0; 7), South Africa (4,361; 86; 1,473), Zambia (84; 3; 42), Zimbabwe (31; 4; 2).
Western (7,373; 185; 2,283): Benin (54; 1; 27), Burkina Faso (629; 41; 442), Cape Verde (90; 1; 1), Côte d'Ivoire (1,111; 14; 449), Gambia (10; 1; 8), Ghana (1,279; 10; 134), Guinea (996; 7; 208), Guinea-Bissau (52; 0; 3), Liberia (120; 11; 25), Mali (370; 21; 91), Niger (684; 27; 325), Nigeria (1,182; 35; 222), Senegal (614; 7; 276), Sierra Leone (86; 3; 10), Togo (96; 6; 62).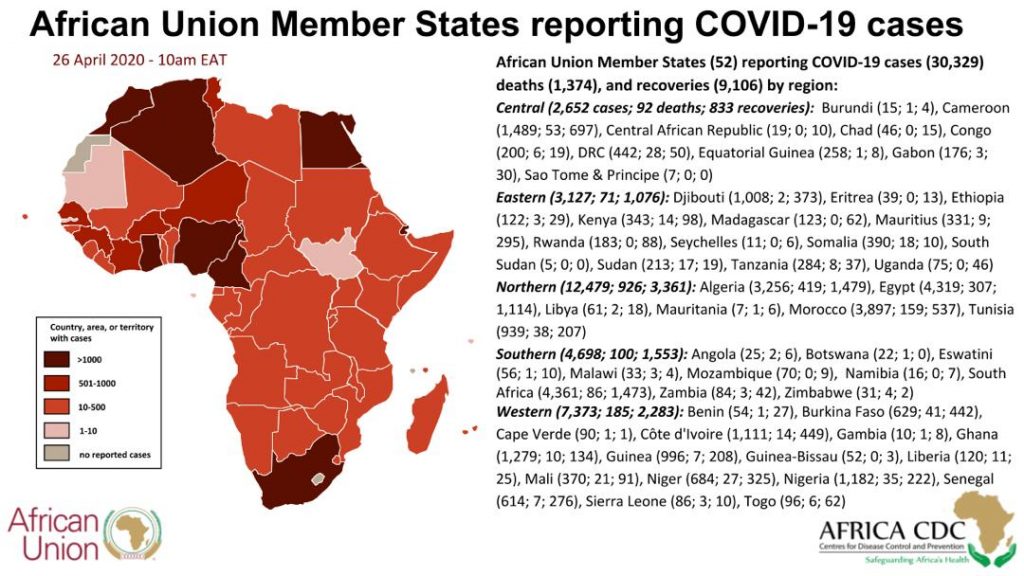 To minimise lockdown restrictions, which are very difficult to handle, especially for informal settlements, African countries may need to rely on a strategy based around mass testing. With many false positives these tests need to provide accurate data.
Virus is spreading beyond densely populated regions
While African nations do need to focus on testing, it cannot be limited to its urban capital regions. Matshidiso Moeti, WHO's regional director for Africa, has warned that Africa's coronavirus cases are beginning to creep out into the continent's rural areas.
Moeti adds that tackling COVID-19 in rural areas is going to be difficult, especially if the region already lacks the proper health systems to deal with an outbreak in its urban centers.
This lack of health infrastructure is particularly troubling, as WHO reported that 43 African nations have less than 5,000 beds in ICUs available for current and future COVID-19 cases. This accounts for around five beds per one million people. The report also found that there are fewer than 2,000 working ventilators in public health centres across 41 African nations.
The World Bank has warned that if the African continent isn't able to handle the coronavirus pandemic, it could spark a food security crisis due to a potentially substantial decline in food production and food imports.
Hopefully, a lot of the aid coming into the continent can help vulnerable countries deal with the crisis. A senior government official told reporters that the United States has provided "almost a billion dollars" across the continent. Cyril Ramaphosa, president of South Africa and chairman of the African Union (AU), said that the AU's COVID-19 Response Fund, established "to direct resources to bolster the continent's response," has so far raised $61 million, which will mainly go to support the work of the Africa CDC. 
Many countries across Africa have already imposed a variety of policies to combat the spreading pandemic, such as curfews, lockdowns and even mass testing drives, such as the case in Senegal, which is developing a 10-minute testing kit that will sell for less than one dollar each.
While WHO has noted that it's possible for Africa to contain the pandemic, the threat is still there, and it remains to be seen whether policies enacted by countries all over the continent will be effective.
What do you feel about the warnings and the threat to the country? Is this as they say?
Sources include:
African News Agency/ANA
WHO.int [PDF]