Collection Series

Fifty million Americans are dependent on, not to mention the multitude across the globe, not heroin or cocaine, but on commonly prescribed psychiatric drugs. While the dangers of illegal drugs and opioids are well known, few are fully informed of the dangers of antidepressants, anti-anxiety meds, and stimulants before becoming physiologically dependent on them. These medications often provide effective short-term relief for emotional distress and other problems, but pharmaceutical companies have hidden common side effects and long-term harm from both patients and doctors.

Medicating Normal, is A 76 minute documentary film exploring our current mental health care system's reliance on psychiatric drugs to deal with trauma, grief, and distress. The film also addresses how such treatment impacts military veterans and caregivers.
Multinational drug companies spend billions of dollars promoting these drugs. Not surprisingly, the narratives extolling their benefits are often the only ones presented in the mainstream media. The other side of the story is not being reported, and it is a story of harm done.
Combining cinema verité and investigative journalism, Medicating Normal follows the journeys of a newly married couple, a female combat veteran, a waitress and a teenager whose doctors prescribed psychiatric drugs for stress, mild depression, sleeplessness, focus and trauma. Our subjects struggle with serious physical and mental side effects as well as neurological damage which resulted from taking the drugs as prescribed and also from attempting to withdraw. Says one psychiatrist, "There's not a chemical on the planet, to my knowledge, that can require years to taper – not Oxycontin, not crack cocaine, not heroin, and not alcohol. But psychiatric medications, any tapered patient will tell you, can take sometimes years if possible, at all."
During the course of the film, prominent psychiatrists and scientific experts explain how it came to pass that – shockingly – one in five Americans take these drugs daily, and often for many years. They reinforce the fact that debilitating side-effects including addiction are common, yet not commonly acknowledged. It is the untold story of what happens when profit-driven medicine intersects with human beings in distress.
"[the pharmaceutical industry] wants to disease-ify every single experience because they want to sell their pills to treat it"
Anna Lembke, MD
Associate Professor, Stanford University Medical Center
From the film Medicating Normal
Benzodiazepine Withdrawal Difficulties: Stanford Psychiatrist Anna Lembke, M.D.
For more information, including links to the scientific evidence base for the statements in this video, as well as further resources: http://medicatingnormal.com/ Stat News: "Benzodiazepines: Our Other Prescription Drug Epidemic" by Anna Lembke: https://bit.ly/2EMYdYw
Anna Lembke's book provides much more detail about the topic discussed here. "Drug Dealer, MD: How Doctors Were Duped, Patients Got Hooked, and Why It's So Hard to Stop": https://amzn.to/2ufK6VG Anna Lembke's biography at Stanford University: https://shc.is/2GXVjTO
The Many Faces of Benzo (Ativan, Klonopin, Xanax, Valium) Withdrawal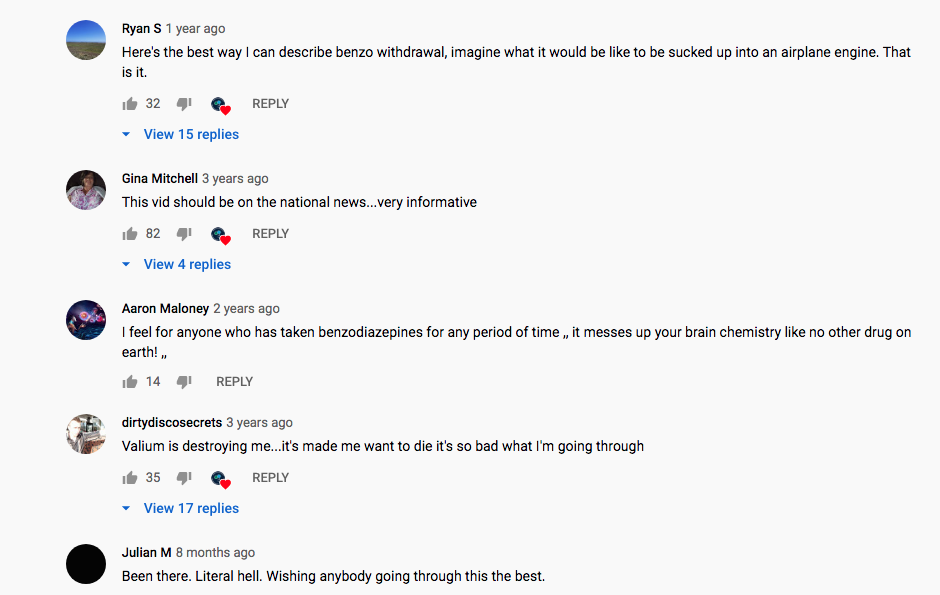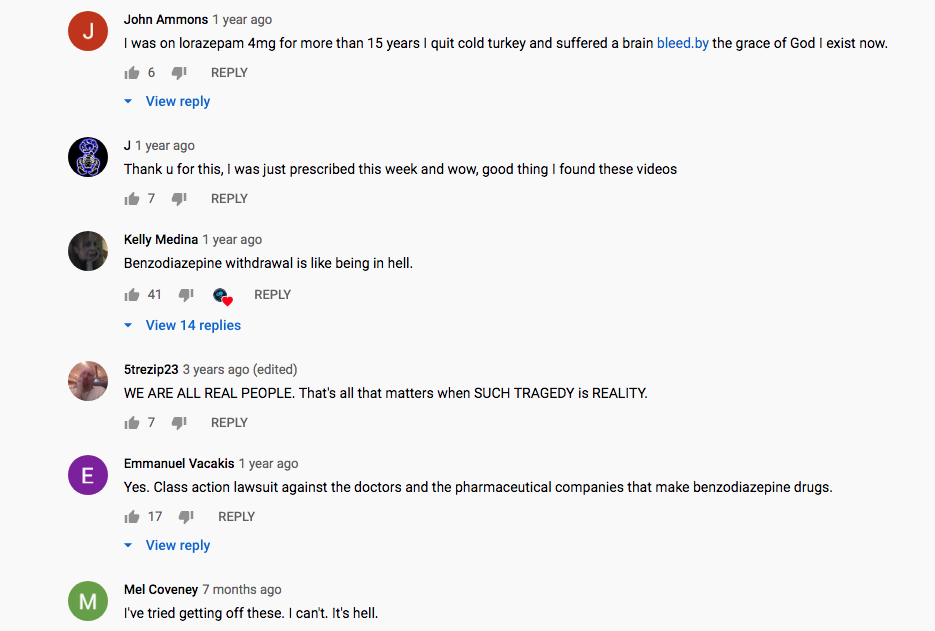 A Discussion With Both Filmakers, Two Subjects & A Pharmacologist
Dr. Tom Perry of Therapeutics Initiative (TI) participated in this event as a guest panelist. Tom co-chairs the TI's Education Working Group and since November 2019 is Editor of the Therapeutics Letter. The Therapeutics Initiative was established in 1994 by the Department of Pharmacology and Therapeutics in cooperation with the Department of Family Practice at The University of British Columbia with its mission to provide physicians and pharmacists with up-to-date, evidence-based, practical information on prescription drug therapy. To reduce bias as much as possible, the TI is an independent organization—separate from government, pharmaceutical industry and other vested interest groups. TI strongly believes in the need for independent assessments of evidence on drug therapy to balance the drug industry sponsored information sources. Dave, US Naval Academy and MIT graduate, former Naval Officer, retired Naval Engineer, and subject of the film
MedicatingNormal interview with Mark Horowitz, MBBS, PhD
Dr Mark Horowitz is a training psychiatrist and researcher, who has a PhD from King's College London on the neurobiology of depression and the action of antidepressants. He also, for many years, took the drugs he prescribed. When he tried to come off them he had a quick and sharp education into the world of withdrawal and the lack of knowledge in the medical field about this topic. Since then he has tried to bring more awareness to the topic of safe de-prescribing of psychotropic drugs through his academic work, including articles published on how to safely taper antidepressants and antipsychotics, and work with the Royal College of Psychiatrists in the UK on developing their guidance for patients stopping antidepressants. He is currently the clinical research fellow on the RADAR trial in London, looking at the effect of gradually tapering people with schizophrenia off their antipsychotics.
Now imagine for one moement, as a parent on these medications how would this impact the way you raise your children when you, yourself are not in control of daily life. See as additional insights the wisdom impart by Dr Gabor Maté.
Dr. Gabor Maté: Consequences of Stressed Parenting
Dr. Gabor Maté talks about the link between stressed parenting and the preponderance of childhood disorders like ADHD, autism and oppositional defiant disorder, at the KMT Child Development & Community Conference.